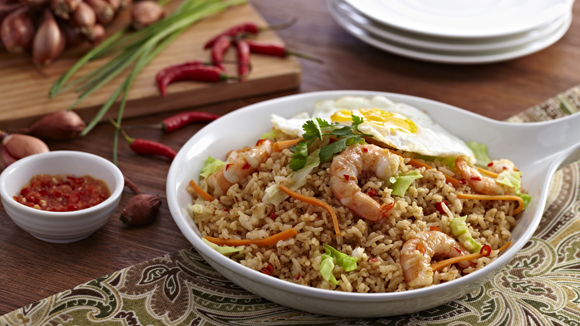 Nasi Goreng
Preparation time

10

Cooking time

10
INGREDIENTS
2 tbsp canola oil
1 pc onion, chopped
3 cloves garlic, chopped
1 pc. Knorr Shrimp Cube, mashed 1 pc. bird's eye chili, chopped
1⁄4 cup carrots, cut into strips
1⁄4 cabbage, shredded
1 tbsp chili paste
2 tbsp Bango Kecap Manis
1 tbsp brown sugar or palm sugar
2 cup cooked rice
4 pcs. cooked shrimp
1 pc. cooked egg
Fresh cilantro
DIRECTIONS
Saute onion and garlic in oil until aromatic, Add chili and Knorr Shrimp Cube. Mix well. Add carrots and saute.
Add chili paste, Bango Kecap Manis, and sugar. Mix well. Add cooked rice, cabbage, and saute until all ingredients are well mixed.
Serve on a platter topped with shrimp, egg, and cilantro.