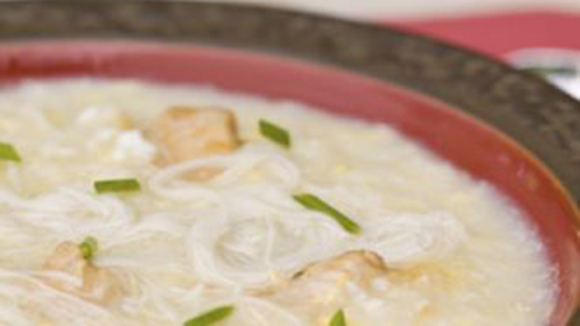 Delicious Chicken Misua Recipe
Our Chicken Misua recipe is the perfect soup for when you're feeling under the weather, or just trying to warm up in cold weather. This Chinese-inspired offering is quick, easy and ever-so-simple to make. Don't forget the egg and a dash of Knorr Liquid Seasoning for extra flavor!
Recipe serves:

4

Preparation time

10 Minutes

Cooking time

10 Minutes
INGREDIENTS
1 cup chicken breast fillet, medium diced
0.50 tbsp Knorr Liquid Seasoning
1 tbso vegetable oil
3 cloves garlic, minced
1 sachet Knorr Nido Oriental Real Chinese Soup 60 grams, dissolved in 4 cups water
1 pc fresh egg
1 cup misua noodles
DIRECTIONS
Marinate the chicken breast in Knorr Liquid Seasoning for at least 30 minutes.
Sauté garlic in oil, add the marinated chicken then sauté for 2 minutes.
Dissolve Knorr Nido Oriental Real Chinese Soup in water and add it to the pan.
Gradually add beaten egg to the dish and stir. Add the misua then simmer for 3 minutes.
Top the dish with spring onions and serve.
RECIPES